SOLD: #93 1997 BMW M3 Sedan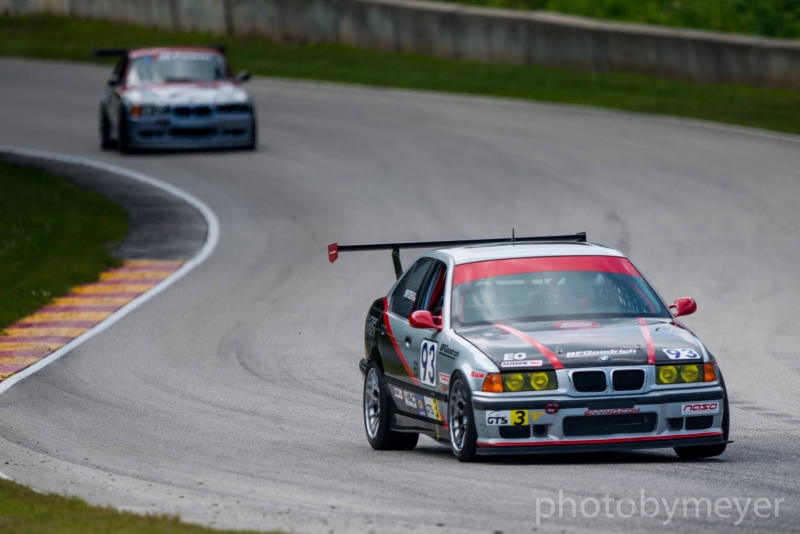 Bought in 2008 as a street car, this car was converted to a NASA German Touring Series (GTS) racecar to be driven by Rick Snyder in the GTS2 and GTS3 classes as well as in the E1 and E0 class for endurance racing. In 2016, the car was raced in the WRL GP1 class.
This is a solid car that is quick and reliable. Holds the GTS2 track records at Pueblo Motorsports Park and High Plains Raceway. Also, it finished 2nd in both the 12 and 24 hour WRL races at High Plains last season.
With the exception of the internals of the engine, transmission and differantial, I have personally touched every nut, bolt and part on this car. If I couldn't clean it or make it like new, I bought new. The only thing not done by me is the cage and welding, which was done by Titan Specialty Metals.
---
GENERAL
NASA GTS3 & E0 Enduro Spec
Dyno (5/2016): ~237 HP and ~225 torque at the rear wheels
Active Autowerke custom tune (including EWS, Rear O2 sensor, SAP removal)
Weight: ~2610 lbs without driver


NASA GTS2 & E1 Enduro Spec
Dyno (5/2016): ~200 HP and ~202 torque at the rear wheels
Active Autowerke custom tune (including EWS, Rear O2 sensor, SAP removal) + Bimmerworld restrictor plate Weight: ~2610 lbs without driver


WRL GP1 Enduro Spec
Dyno (5/2016): ~200 HP and ~202 torque at the rear wheels
Active Autowerke custom tune (including EWS, Rear O2 sensor, SAP removal) + Bimmerworld restrictor plate Weight: ~2750 lbs without driver


ENGINE & COOLING
3" AFE intake with 3" MAF
Bimmerworld silicone intake boot
ASC throttle body removed
M50 manifold conversion
Turner shorty headers
Active Autowerke track pipe (section A) + AA E36 race exhaust


VAC oil pan baffle

GripForce F1 Stage 3 Clutch

GripForce F1 Chromoly Flywheel

Bimmerworld oil distribution block with oil pressure and temp sensors
Aluminum thermostat body with new thermostat and hoses
Stewart water pump
Bimmerworld silicone water hoses
Turner Motorsports underdrive pulleys
Safety wired oil pump nut
Mishimoto aluminum radiator

SPAL 16" straight-blade puller fan with custom mount and wiring

Vorshlag nylon motor mounts
Complete A/C delete

Complete heater core delete with custom return pipe
Carbon canister delete





TRANSMISSION & DIFFERENTIAL
Stock 5-speed transmission
Vorshlag poly competition transmission mounts

Bimmerworld solid race shifter

Jaffster delrin shift knob

Diffsonline.com custom differntial: 3.46 gears, 3-clutch LSD

Bimmerworld differential cooler with upgrades

UUC SS clutch line

BRAKES
Massive Brake's Front BBK:
- AP Racing 4-piston calipers
- Wilwood 332x32 floating/slotted rotors
- Massive Brake hats and caliper brackets
- Hawk DTC70 pads

Massive Brake's Rear BBK:
- Wilwood 4-piston calipers
- UUC slotted rotors
- Massive Brake hats and caliper brackets
- Hawk DTC60 pads
UUC SS brake lines (F/R)
Hard Motorsport brake ducting (F)

SUSPENSION
Ground Control coilovers w/ Koni single adjustable shock (F/R)

Ground Control camber plates (F)

Ground Control rear lower control arms

Ground Control rear weight jack

Eibach 650lb springs (F)

Eibach 800lb springs (R)

Ground Control racing sway bar (F-Large)

Ground Control sway bar endlinks (F)

Stock rear sway bar

UUC front control arm bushings (F)

Powerflex trailing arm bushings

UUC rear subframe bushings

Turner Motorsports solid differential bushings

BMW Motorsports X-brace

Bimmerhaus custom alignment

TIRE/WHEEL
Dry sprint setup:
- Apex ARC-8 wheels: 17x9.5, ET35
- BFG R1 255/40/17 dry tires
Wet sprint setup:
- Apex ARC-8 wheels: 17x8.5, ET40
- Toyo R1R 235/40/17 rain tires


Turner competition wheel studs (90mm front/75mm rear) and lug nuts

ECSTuning.com 12.5mm spacers (F)

Custom fender rolling (F/R)

Turner Motorsport steering rack stop kit

Bimmerworld AN power steering kit

INTERIOR
Titan Specialty Metals custom 8pt cage
Sparco steering wheel with LTB Motorsports and Sparco hub
Racetech RT41199WTHR seat on VAC floor mounts & Racetech side mounts & Racetech seat back brace
Schroth Profi II Hans 6pt harness

Safety Solutions right side net
Autometer Sport Comp Digital gauges: oil pressure, oil temp, water temp and differential temp

Custom center console
GURU Custom Design carbon/kevlar sunroof panel
Four panel Wink mirror

Firecharger 2.3L fire system

Wired for Traqmate data system

Wired for Sampson Racing radio system

EXTERIOR

Carbon fiber hood

Factory hood with 3 LED light bars (total 10,800 lumens)

Sparco hood pins with factory latch delete
Custom plywood splitter and undertray
Bimmerworld carbon fiber dive planes
Brooks Motorsport Pro wing w/ laid back mounts

Lexan side windows

Valley Motorwerks Tow Hooks (F/R)
ClearPlex windshield protection film
Lamin-x yellow headlight film
DDM Tuning Saber LED headlight bulbs (Low beam @ 6,000 lumens)



---
GTS3 Lap Times

| | | |
| --- | --- | --- |
| TRACK | TIME | TIRE |
| Pueblo Motorsports Park | 1:40.591 | 255/40/17 BFG R1 |
| High Plains Raceway - Full | 2:00.895 | 245/40/17 BFG R1 |
| High Plains Raceway - North | 1:21.474 | 245/40/17 BFG R1 |
| High Plains Raceway - West | 1:35.361 | 255/40/17 Nitto NT-01 |
| Miller Motorsports Park - Outer | 2:09.538 | 245/40/17 BFG R1 |
| Road America | 2:31.287 | 255/40/17 BFG R1 |
GTS2 Lap Times

| | | |
| --- | --- | --- |
| TRACK | TIME | TIRE |
| Pueblo Motorsports Park | 1:42.567* | 255/40/17 BFG R1 |
| High Plains Raceway - Full | 2:02.609* | 255/40/17 BFG R1 |
| Miller Motorsports Park - Outer | 2:09.538 | 255/40/17 BFG R1 |
*Current Class Track Record
---
Current pictures: